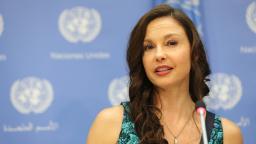 "Accidents happen — and there was a fallen tree on the path which I didn't see and I had a very powerful stride going and I just fell over this tree," she informed New York Times columnist Nicholas Kristof on Friday. "As I was breaking my leg, I knew it was being broken."
It took an "incredibly harrowing 55 hours" to get her from the jungle to an working desk in South Africa.
She was caught on the bottom for 5 hours with a "badly misshapen leg," biting a stick due to ache, and "howling like a wild animal."
She was finally taken to a trauma unit on a motorbike whereas holding the highest a part of her damaged tibia collectively.
"We did that for six hours," she recalled. "I was at the edge of my very edge."
The "Double Jeopardy" star and activist spends a lot of every 12 months in Africa and needed to make use of the interview to boost consciousness of problems with poverty and animal safety. She was there on a analysis challenge on bonobos, a species of endangered primates.
Judd acknowledged the "privilege" that allowed her to obtain comparatively swift medical care. "Most of the people I know would not have had access."