Bollywood actress and environmentalist Juhi Chawla is in discussion these days about the ongoing 5G trial in the country. He has filed a petition in the Delhi High Court against the establishment of 5G wireless network in India. The matter was heard online on Wednesday in which the actress herself was also involved and it had to be stopped thrice. An interesting incident happened when someone started humming the famous song 'Ghunghat Ki Aad Se Dilbar Ka' from his film Hum Hain Rahi Pyaar Ke.
Amid the hearing, Justice JR Midha said please mute it. On this, advocate Deepak Khosla, appearing for Juhi, said that he is hopeful that it will not be removed by any of the respondents. The court was hearing the issue of court fees to be deposited by the plaintiff and then someone sang another Bollywood song.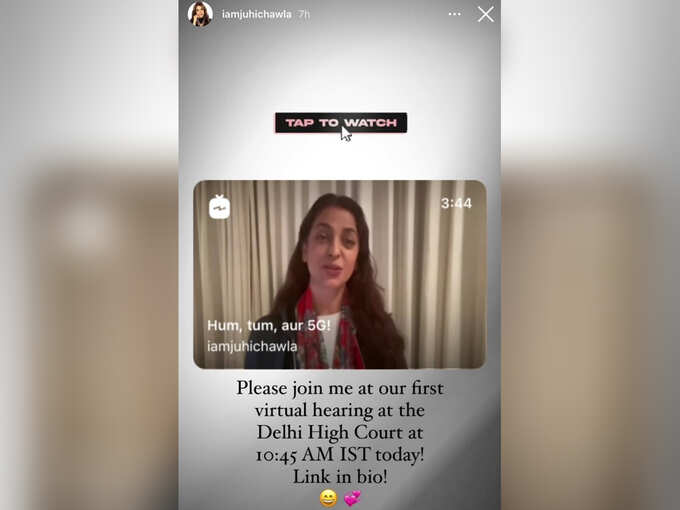 Court ordered to take action
This time 'Lal lal lipon pe gori kiska naam hai' resonated in the courtroom which was dropped from the hearing. The singing did not stop here. Once again someone sang 'Meri Banno Ki Aayegi Baraat'. After this, the judge identified the person and ordered to issue a contempt notice. The court also asked the IT department of the Delhi High Court to identify the person and inform the Delhi Police for necessary action.
What did Juhi say in her petition?
Earlier, the Delhi High Court on Wednesday asked Juhi to file a short note on her plea against setting up of 5G wireless network in the country. Let me tell you, the actress had filed a court petition on Monday against setting up a 5G wireless network. In this he raised the issues related to the effects of radiation of this technology on citizens, animals, flora and fauna.
.