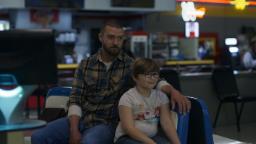 Timberlake's Eddie Palmer was a high-school soccer star, whose dangerous judgment landed him a 12-year jail sentence. Returning to his dwelling city in Louisiana, he takes up residence with his grandma (June Squibb) and struggles to discover work, lastly touchdown a janitor's job on the native faculty.
The city is "still all about church and football," he is reminded, which makes life even tougher on the aforementioned boy, Sam (splendidly performed by Ryder Allen), a sufferer of fixed bullying due to his nonconforming gender id. Moreover, his addict mom (Juno Temple) abandons him, leaving the taciturn Palmer as his unlikely overseer, with a little assist from the child's caring trainer ("Raising Dion's" Alisha Wainwright).
Images of the married Timberlake holding arms with Wainwright precipitated a little bit of
a tabloid furor
in 2019, which is both a promotional boon for such a modestly scaled film, an unwelcome distraction or a little of each.
Setting these extracurricular issues apart, "Palmer" derives a quiet energy from its performances and the narrative arc of the title character, who goes from snapping, "You know you're a boy, right?" at Sam when he performs with dolls to turning into decided to defend him, even when meaning making sacrifices and probably endangering his newly gained freedom.
Timberlake has performed dramatic roles earlier than (see "The Social Network"), however this starring car however appears like a step up at school and ambition, and he is fairly convincing as a man with the hollowed-out look of somebody haunted by remorse, who had the longer term laid out for him — with a soccer scholarship to LSU — earlier than derailing his life.
Directed by actor and documentarian Fisher Stevens, "Palmer" definitely would not break any floor, however its easy story is sensitively advised. As streaming providers like Apple's endeavor to stand out from the gang, championing this sort of worthwhile little film looks like nearly as good a means as any to get some further bang for his or her bucks.
"Palmer" premieres Jan. 29 on Apple TV+. It's rated R.