Lucknow.
The Uttar Pradesh government has issued an advisory regarding bird flu. In this, the officials of the districts have been asked to be ready for security measures and to deal with rumors. Meanwhile, Samajwadi Party's national president Akhilesh Yadav has advised the Yogi government of Uttar Pradesh regarding bird flu. Akhilesh has tweeted that the government should prepare in advance to avoid bird flu. How should the public avoid it, spread it.
Akhilesh has tweeted, "The UP government should prepare in advance to avoid the 'bird flu' that has spread in many states of the country and how should the public disseminate its side effects. Taking the extra burden of bird flu along with Corona will be a big challenge for the doctors and medical staff already working day and night. "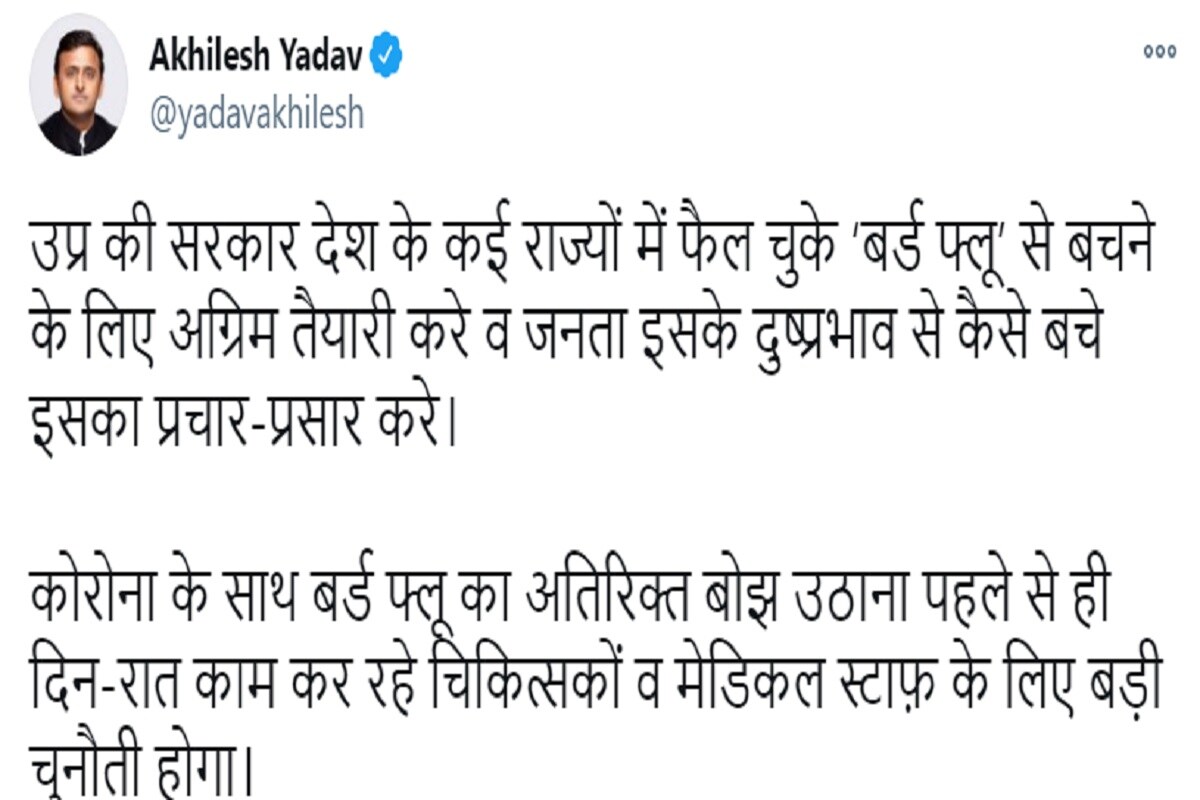 Tweet of SP chief Akhilesh Yadav
This is the advisory of UP governmentIn view of the danger of bird flu that started from Alappuzha in Kerala, UP's Livestock Department for the entire state Advisory In this, instructions have been given to all the districts that the water reservoirs of birds drinking water should be monitored. If a flock of outdoor birds comes to drink water, then keep an eye on it. If a bird is found dead after drinking water in the reservoir, it should be sent to the lab for forensic examination immediately.
Vehicles coming from outside states, especially poultry ie chickens, should be examined. If a bird is found sick or dead, then it should not be allowed to enter the border of the state. The rooster mandis should be kept closed once a week and the mandi should be cleaned thoroughly on that day.
A list of all bird sanctuary and bird parks should be made where migratory birds come. At the same time, the guidelines of the Government of India should be fully adhered to the infection and methods of preventing infection should be used.
All the District Magistrates should ensure that there is no shortage of Facemask and PPE Kit in their districts. It should be used when needed.
Public awareness campaign should be launched in all the districts for the use of chicken and its products. Do not let any kind of rumor spread.