Squid Game Season 2: If you're a fan of Netflix's Kdrama TV show Squid Game, it's time to celebrate! Netflix recently announced the second season of Squid Game, the most successful and one of the best TV series available on the platform. The announcement was made via the official Netflix page. social channels promoted to fans worldwide. Writer-director Hwang Donghyuk mentioned early on the possibility of pushing the series forward. I wasn't sure if that would work though as most kdramas end.in a single season. Thankfully, the record-breaking TV series was loved by fans, and it was motivating enough for Netflix to officially greenlight Squid Game for Season 2.
If you're wondering what the future holds for Squid Game after last season's dramatic wrap-up, here's everything we know so far about a potential season 2 of the Korean scripted drama series.
Squid Game Season 2 Release Date
In an interview with Vanity Fair, director Hwang mentioned that audiences can expect Squid Game Season 2 to release around the end of 2023 or the beginning of 2024. At the time of the interview, Hwang revealed that he had written only three pages of script and wasn't sure how to take the story further. He mentioned that the audience would see more games that would test humanity repeatedly.
Neither Netflix nor the producers behind Squid game have officially mentioned the release date for the second season. However, if we are to believe Hwang, the next Squid Game season will air by the end of 2023. We will provide you with the confirmed release date as soon as there is an official announcement.
Squid Game Season 2 Trailers
At the time of writing this article, Netflix has only shared a short teaser trailer for Squid Game season 2. The streaming company tweeted a surprise announcement on the 12th of June, 2022, mentioning the "Red light… GREENLIGHT!" game from the TV show. The tweet further confirms that "Squid Game is officially coming back for Season 2!"
You can check out the iconic robot doll from the show's first game in the teaser below:
Netflix is yet to release any official trailer for Squid Game Season 2. We will update this article to include the first announcement trailer and other trailers as and when Netflix released them.
The first teaser trailer was followed by a message from the writer, director, producer, and creator of Squid Game, Hwang Dong-hyuk. In the follow-up tweet, Hwang thanked the fans and teased some interesting plot points and returning characters for Season 2. So, let's check out everything we know about the second season of Netflix's biggest hit, Squid Game.
Squid Game Season 2: Cast Members
Hwang explicitly mentioned in his post on Twitter (attached below) that Gi-hun (Lee Jung-jae) is returning in Squid Game Season 2. The audience loved his performance in the first season, and it would be exciting to see what the character does next.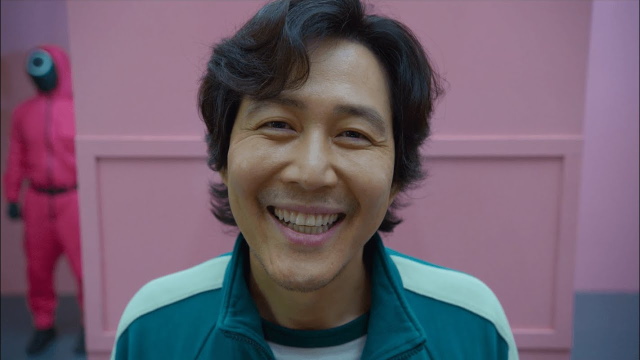 So far, we know that he won the game, but rather than enjoying his ₩45 billion (~USD$ 35 million) cash prize, he spent his days thinking about the atrocities that happened on the hidden island. Gi-hun is an exciting character who escaped poverty, but his morals aren't letting him live peacefully. Therefore, it would be thrilling to see Jung-jae playing the kind-hearted protagonist again. You can watch the original Twitter post from director Hwang right here.
Squid Game Season 2: Plot Details
Squid Game's season 1 finale left us with a cliffhanger ending. We saw the lead character Seong Gi-hun not board the flight after realizing that the game is still active and the people behind it are keeping an eye on him. It only makes sense that the Season 2 story will follow Gi-hun as the lead character.
However, we do not have any idea what to expect from the plot. Writer-director Hwang Dong-hyuk has mentioned that it took him 12 years to prepare the final script for season one, and at the time, he had no intention to continue the story. Therefore, we are in for a surprise.
The only clue we have right now is that someone else is continuing the game after Oh Il-nam's (Player 001) death. Hwang has mentioned in an interview with The Times that he would like to explore Front Man's origin in Squid Game Season 2. Now that it's confirmed that he is returning for the second season, audiences can expect to learn how a former cop ends up overseeing a deadly game. Besides that, who all are behind it and what steps Gi-hun might take to stop them will be exciting to watch.
At the end of the day, one thing's for sure, we can expect another round of the Squid Game in Season 2. That means we will see another set of people fight for their lives in each game (possibly new ones this time around). We can expect to see more killings, betrayals, and a dark mystery unfold next season.
Where Can I Watch or Stream Squid Game 2?
Squid Game proved to be the biggest hit for Netflix in 2021. You can watch and stream the first season of Squid Game on Netflix. The show is available globally in almost every language. If you are not fluent in Korean like me, you can change the audio and subtitles on Netflix to your preferred language. In case you are unable to find the TV series, we suggest you change your country/ region on Netflix and try again. Squid Game season 2 will be available on Netflix after its official release.
Frequently Asked Questions
Is there a Season 2 of Squid Game?
Yes, it is officially confirmed that Netflix has renewed Squid Game for a second season.
How many seasons will Squid Game have?
Squid Game was initially created with a single season in mind. Netflix has now confirmed that we are getting a second season. If Netflix plans to continue the series further is yet to be known. However, director Hwang Dong-hyuk in an interview stated that he is discussing with Netflix the production of a Season 2 and Season 3, but nothing is set in stone yet.
What are the 5 Squid Game games?
The participants in Squid Game plays 5 games once they are on the island. Not counting the ddakji match they played outside, the remaining games are in chronological order.
Red Light, Green Light: The robot doll eliminates anyone who moves at the red light or does not cross the final line before time out.
Dalgona/ Ppopgi: Participants must cut out the shape they choose from the sugar candy. Only those who remove the shape without breaking it go to the next round.
Tug of War: Participants had to create teams and play a Tug of War match. The surviving team in each round wins.
Marbles: The participants had to break up into pairs and play a marble game with their partners. They are free to choose any Marble game, but one should win all marbles to survive.
The Glass Tile Game: In this game, the participants first had to choose a number. Then, they were asked to walk on a glass bridge in chronological order. Stepping on the wrong tile leads to their fall and demise.