If you too are thinking of starting a business, then most of all know that there is such a thing whose demand is always there. So that you reduce the chances of loss by starting the business of that product. Also, if you do not have a lot of money to invest, then also know which businesses get easy help from the government… Government of India has brought such a great opportunity for you. . Through which you can earn thousands of rupees daily. This is the business of agarbatti production, to make India self-dependent in agarbatti production, the Khadi and Village Industries Commission (KVIC) has approved to start a program to generate employment.
This program named 'Khadi Agarbatti Atma Dependent Mission' has been started in different parts of the country to generate employment for the unemployed and migrant workers and to increase domestic agarbatti production. KVIC is launching this scheme on public and private mode. There is very less investment in this industry while a large number of people will get work. So let's know how to start the business of incense sticks …
Agarbatti making machine
Many types of machines are used to make incense sticks. These include mixer machine, dryer machine and main production machine. The mixing machine is used to make raw material paste and the main production machine works to wrap the paste on bamboo. The machine for making incense sticks is semi and also fully automatic. After choosing the machine, according to the budget of the installation, deal with the supplier of the machines and get the installation done. It is also necessary to take training to work on machines.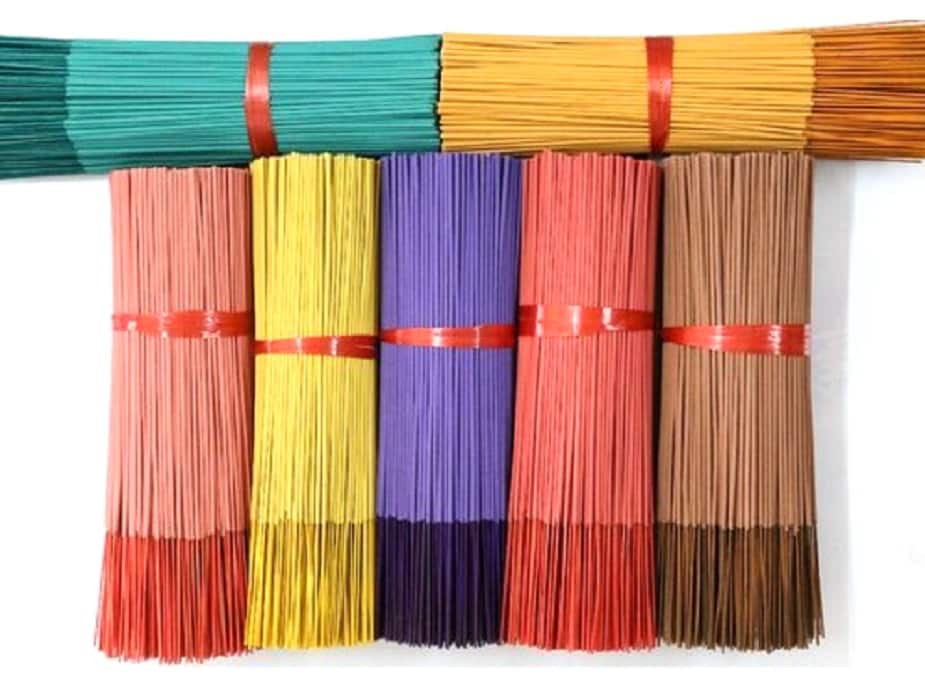 How much is the machine price
In India, the price of incense sticks making machine ranges from Rs 35000 to Rs 175000. In a low-cost machine, production is low and you will not make much profit from it. Start working with an automatic machine making incense sticks because it becomes very fast incense sticks. The price of automatic machine ranges from 90000 to 175000 rupees. An automatic machine makes 100kg incense sticks in a day.
Raw material supply
After machine installation, contact the good suppliers of the market for the supply of raw materials. To get a list of good suppliers, you can take help from people doing business in an agarbatti industry. Raw material should always be asked for a little more than needed because some part of it also goes into the vestage.
Also read: Quit your job and start this business, you will earn up to 4000 rupees daily
Material for making incense sticks
Ingredients for making incense sticks include gum powder, charcoal powder, bamboo, Nargis powder, aromatic oil, water, cents, flower petals, sandalwood, gelatin paper, shaw dust, packing material, etc.
Packaging and Marketing
Your product sells on your designer packing. Consult a packaging expert for packing and make your packaging attractive. Try to touch the religious mood of the people by packaging. You can give ads in newspapers, TV for marketing incense sticks. Apart from this, if your budget allows, then make online website of the company and market your various products.
Also read: PM Kisan Yojna: 2,000 rupees of 7th installment will be deposited in farmers' bank account within 15 days
How long does it take to make incense sticks
The time of manufacture of agarbatti can be different according to the machine used by you, like if you are using an automatic machine, then you can make 150 to 200 incense sticks in 1 minute. If you are building or getting it done by hand, then the time it takes depends on your or the employee's ability to work.
Total cost to start a business
You can start this business by building it manually with a cost of Rs. 13,000, but if you are thinking of starting a business of incense sticks with a machine, then it costs up to about Rs. 5 lakhs to start it. May take.
Know how much profit will be made
If you do an annual business of 30 lakh then you can earn 3 lakh rupees with 10% profit. That is, you can earn 25 thousand rupees every month.